Renaissance Paris Hippodrome de Saint-Cloud
110
Rooms whose 36 twin
9
salles
Dancing parties
Renaissance Paris Hippodrome, bright and authentic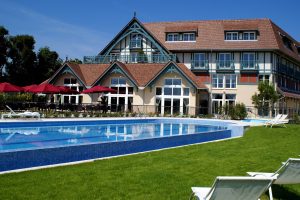 Just 10 minutes from Paris, nestled in the heart of the Paris Country Club grounds, the Renaissance Paris Hippodrome de St. Cloud Hotel, puts at your disposal its 110 rooms and suites as well as nine daylight meeting rooms to host your professional events.
Immerse yourself in its Anglo-Norman architectural style and its decorated interior that is decidedly modern.
The Bar, the Restaurant and the Outdoor Swimming Pool are all assets that make this place the perfect stopover for your business stays or to organize your residential seminars.
| Room | Conference | Seated dinner | Cocktail | Daylight |
| --- | --- | --- | --- | --- |
| Enghien (217 m²) | 180 | 110 | 200 | Yes |
| Saint-Cloud (91 m²) | 80 | 60 | 40 | Yes |
| Maisons-Lafitte (55 m²) | 60 | 40 | – | Yes |
| Auteuil (45 m²) | 18 | – | | Yes |
| Longchamp (32 m²) | 32 | – | | Yes |
| Vincennes (107 m²) | 90 | 60 | 60 | Yes |
| Chantilly (250 m²) | 200 | – | | Yes |
See the whole table
Collapse table
123 Rue du Lieutenant Colonel de Montbrison, 92500 Rueil-Malmaison, France