Manuel Peyrondet: sommelier
Manuel Peyrondet, best sommelier of France, best worker of France.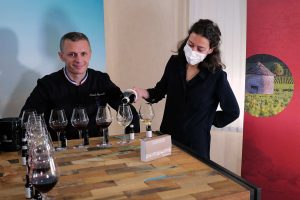 Starting his career as a sommelier in the Parisian golden triangle at the Georges V hotel with Eric Beaumard, he soon joined the caves Taillevent and the Royal Monceau as Chef Sommelier.
Today, he intervenes and provides his expertise and oral fluency during wine tasting workshops or then an evening of several hundred people in an appropriate venue with relevant animations
Cofounder of Chais d'œuvre, he surveys the vineyards, the great estates and searches for the future great wines for the happiness of our members. What counts for him is the coup de coeur à la dégustation!
Manuel is at your disposal to federate your collaborators, accompany the high points of your company and create rare emotions in your customers.