The Hall of Mirrors
Dancing parties
Le Salon des Miroirs, a luxurious reception room
Located in the Passage Jouffroy, the Salon des Miroirs is a room for rent of very high standing, with sumptuous decorations.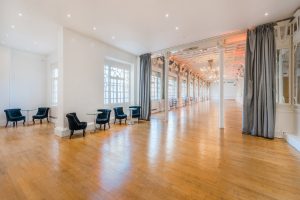 With its very chic and luxurious Parisian style, its period mirrors, its decoration teeming with details and its modern equipment (new sound and light technologies), this exceptional venue is ideal for organising all types of events: a wedding ceremony, a fashion show or a gala dinner.
With its surface area of 540 m², the Salon des Miroirs can be used as a cocktail room for up to 400 people and 250 people for meals.
13 Passage Jouffroy, 75009 Paris, France